We first learned about New England Custom Floors when we stopped in to see the progress on a new house we had admired. The custom floors were magnificent, and we learned that New England Custom Floors had completed that excellent work. We engaged them to refinish a substantial part of the oak floors in our main living areas that all had very different origination dates. They have done a fantastic job of integrating the finishes to look uniform in color and age. Not only are they artisans, but this is a first class company that does efficient and timely work. | D.S. – Cromwell CT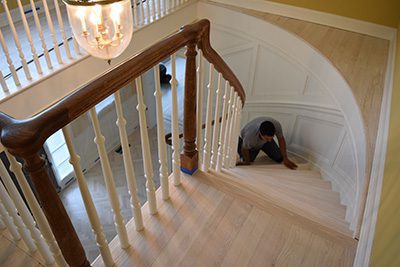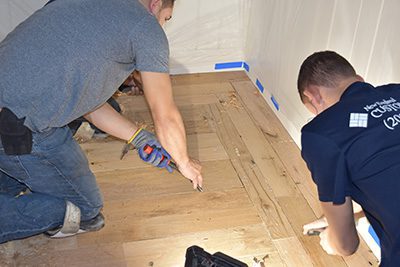 Properly installed and finished hardwood floors bring exceptional warmth and beauty to a living space. Exotic hardwoods like Red and White Oak, American Cherry, Maple and Walnut, Antique Heart Pine, Douglas Fir, and Hemlock, each have a unique personality and patina, and require an experienced installer to preserve and accentuate their inherent beauty.
The expert installers and restorers at New England Custom Floors can design, plan, and install a new custom hardwood floor, add pickling, herringbone, or custom medallions; or breathe new life into old, worn wood though a restoration that integrates finishes to create a uniform whole.
Our dust containment process includes the covering and masking of all finished surfaces and fixtures throughout your home.  Our machines are also attached to portable dust containment units that reduce dust emissions to almost zero.  We will also safely quarantine and protect all areas of the house that are note being worked on.
Always friendly, professional, and patient, the installation and restoration experts at New England Custom Floors are artisans and craftsmen who will work with you to create the floor of your dreams.
New England Custom Floors has created wood flooring projects that scan a wide range of needs – from cozy cottage foyers to great rooms to full-scale gymnasium floors. Those that rely on our services include:
ARCHITECTS, who count on New England Custom Floors for our experience, expertise, and professionalism.
DESIGNERS AND DECORATORS, who rely on us to apply the perfect hardwood flooring finish for their clients' homes, including a highly-favored water-based finish that extends floor life in high traffic areas like kitchens, baths, and foyers.
Discerning HOMEOWNERS, who refer us for the high quality of our service.